Back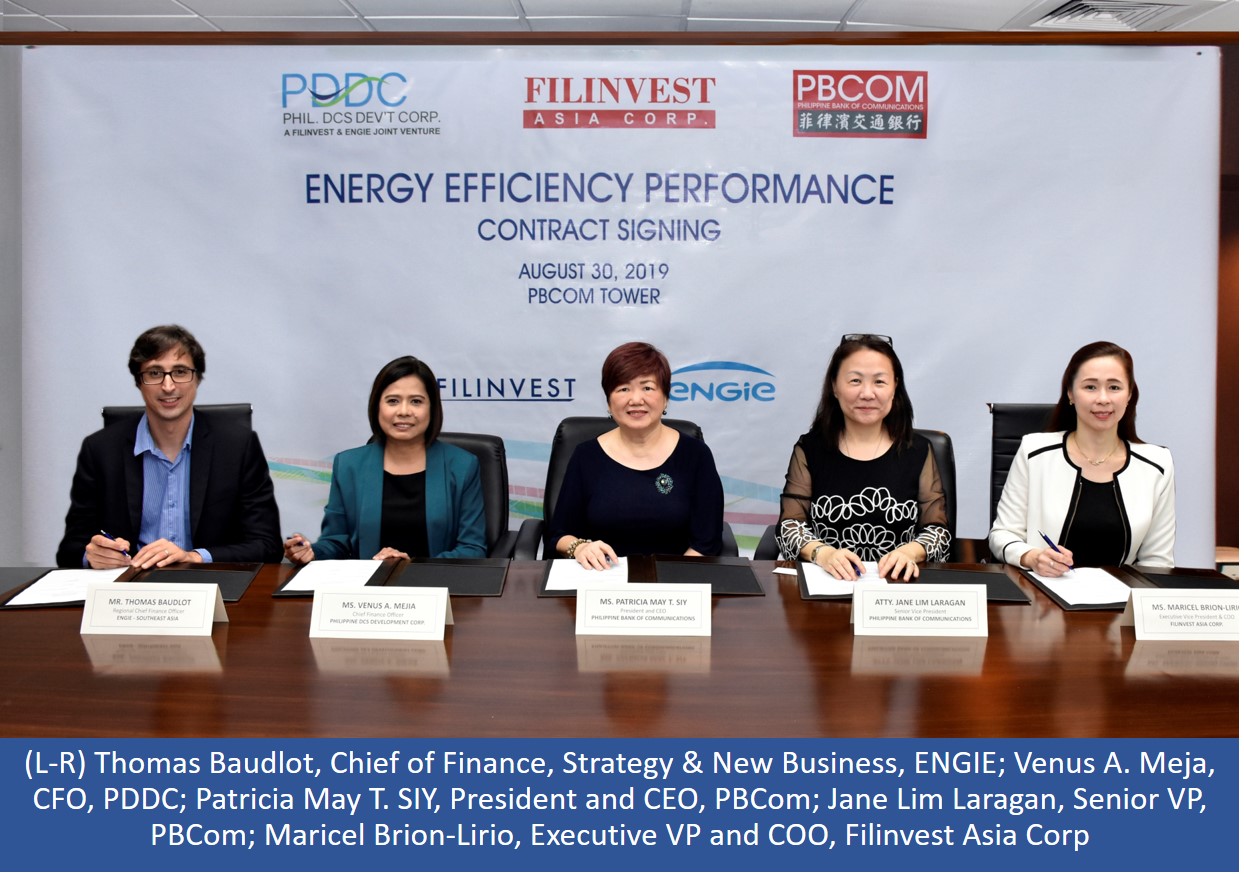 MAKATI, PHILIPPINES, 9 September 2019 – The Philippine DCS Development Corporation (PDDC), a joint-venture company by ENGIE Services Philippines and Filinvest Land Inc., and owner of the largest District Cooling System (DCS) plant located at Northgate Cyberzone, has signed a 10-year contract with Filinvest Asia Corporation (FAC) and the Philippine Bank of Communications (PBCom) to provide energy-efficient solutions for PBCom Tower, its joint development project.
Under this agreement, PDDC will provide a chilled water plant within the 52-storey PBCom Tower through the Build-Own-Operate-Transfer (BOOT) model, where PDDC will design, finance, rehabilitate, construct, install, operate and maintain a new and efficient chilled water plant that will provide energy savings to the tower. The BOOT system also transfers the ownership of the chilled water plant to FAC and PBCom at the end of the concession agreement.
PBCom Tower is expected to reduce its power consumption by about 4,103 MWh per year (equivalent to 2,429 eq. tons of CO2 emissions). The project also aims to cut carbon dioxide emissions, a key component of FAC's vision of sustainable development.
"PDDC through ENGIE, the global energy leader committed to reducing carbon emissions worldwide, will work with PBCom Tower and its locators towards achieving their sustainability objectives with our teams of experts in the field of energy and green technologies," said Pierre Cheyron, CEO, ENGIE South East Asia. "PBCom Tower's energy-efficiency contract is another vote of confidence and testament to our ambition in accelerating zero-carbon energy transition in the Philippines, following the successful implementation of other energy efficiency and digital solution projects in the country," Chevron added.
Located in the Makati Central Business District, PBCom Tower is the third tallest building in the Philippines. It has a total ground to architectural top height of 259m (850ft), with 52-stories and an eight-level radio tower.
"The Philippine government has increasingly made combating climate change a priority," said Maricel Brion Lirio, Executive Vice President & COO, Filinvest Asia Corporation. "I am confident that this landmark project with PDDC, will immensely improve our energy efficiency, cost savings measures, and most importantly, fulfill our social responsibility to minimize the climate-related existential risks in the communities we belong to."
###
About Philippine DCS Development Corporation (PDDC)
Philippine DCS Development Corporation (PDDC) is an incorporated joint-venture between the Gotianun-led Filinvest Land, Inc. (FLI) and Engie Services (Philippines), the local arm of the France-based Engie, a worldwide leader and biggest in Energy Efficiency and Environmental Services. It is also the collaborative response of Filinvest and Engie to the call for mitigating measures to help address the urgent global concern of climate change.
PDDC's DCS project located at Northgate Cyberzone, is one of the first in the country with a 10,000 TR centralized chilled water plant that provides energy efficient cooling energy to existing and future office buildings within the area.
In addition, PDDC will be developing new DCS projects and will engage in Project Management and Operations and Maintenance (O&M) Services for existing and future Heating, Ventilation and Air-conditioning (HVAC) projects. PDDC will employ new technologies and methods in connection with increasing energy efficiency, reducing greenhouse gas emissions, developing new environmentally friendly and reliable energy by utilizing renewable sources.
Pleases tilt your device view in portrait mode for better view