Mölnlycke launches new manufacturing plant in Kulim, Kedah, Malaysia with ENGIE's UAAS solution to accelerate their sustainability journey
Back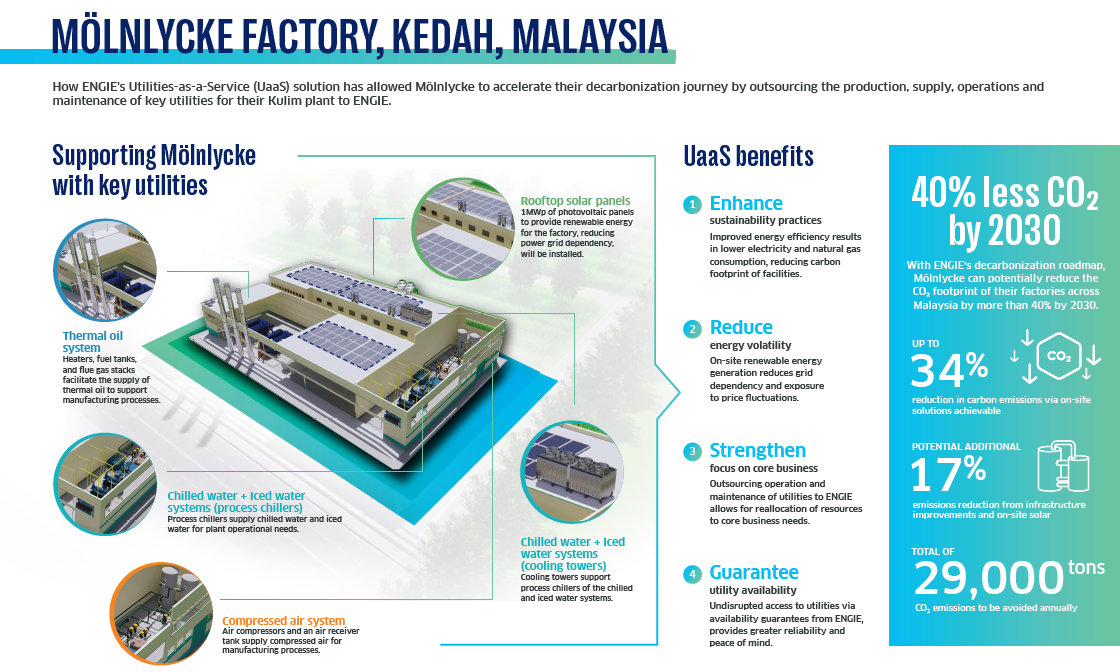 On Tuesday, 20 September Mölnlycke, a global leader in the provision of medical products and solutions, launched their manufacturing plant in Kulim Hi-Tech Park in Kedah, Malaysia. Utilizing ENGIE's Utilities-as-a-Service (UaaS) solution alongside Veolia's wastewater management system, the factory benefits from enhanced sustainability practices that minimize its electricity and water consumption.
Mölnlycke's new factory serves as an excellent example of the benefits of ENGIE's UaaS offering. In addition to minimizing electricity use, ENGIE has optimized natural gas consumption, enhancing overall energy efficiency and decreasing the carbon footprint of the facilities. ENGIE's UaaS solution also ensures reliable, undisrupted access to key utilities through availability guarantees. Further, 1MWp* of photovoltaic solar panels will be installed on the plant's roof to provide renewable energy, decreasing dependence on the power grid and in turn reducing exposure to fluctuations in the price and supply of electricity.
The launch of Mölnlycke's Kulim factory marks an important milestone in their sustainability journey. It is the first step of the decarbonization roadmap designed by ENGIE to help Mölnlycke reduce their CO2 footprint across Malaysia by up to 40% by 2030. With successful implementation, the decarbonization roadmap could result in a total of 29,000 tons of CO2 emmissions avoid per year by Mölnlycke's Malaysian operations.
To learn more about our partnership with Molnlycke and how together we are driving sustainable practices in the manufacturing industry, read our press release here.
*Megawatt Peak (MWp) is a unit of power that indicates how much electricity can be generated in one hour at maximum capacity.
Pleases tilt your device view in portrait mode for better view