Back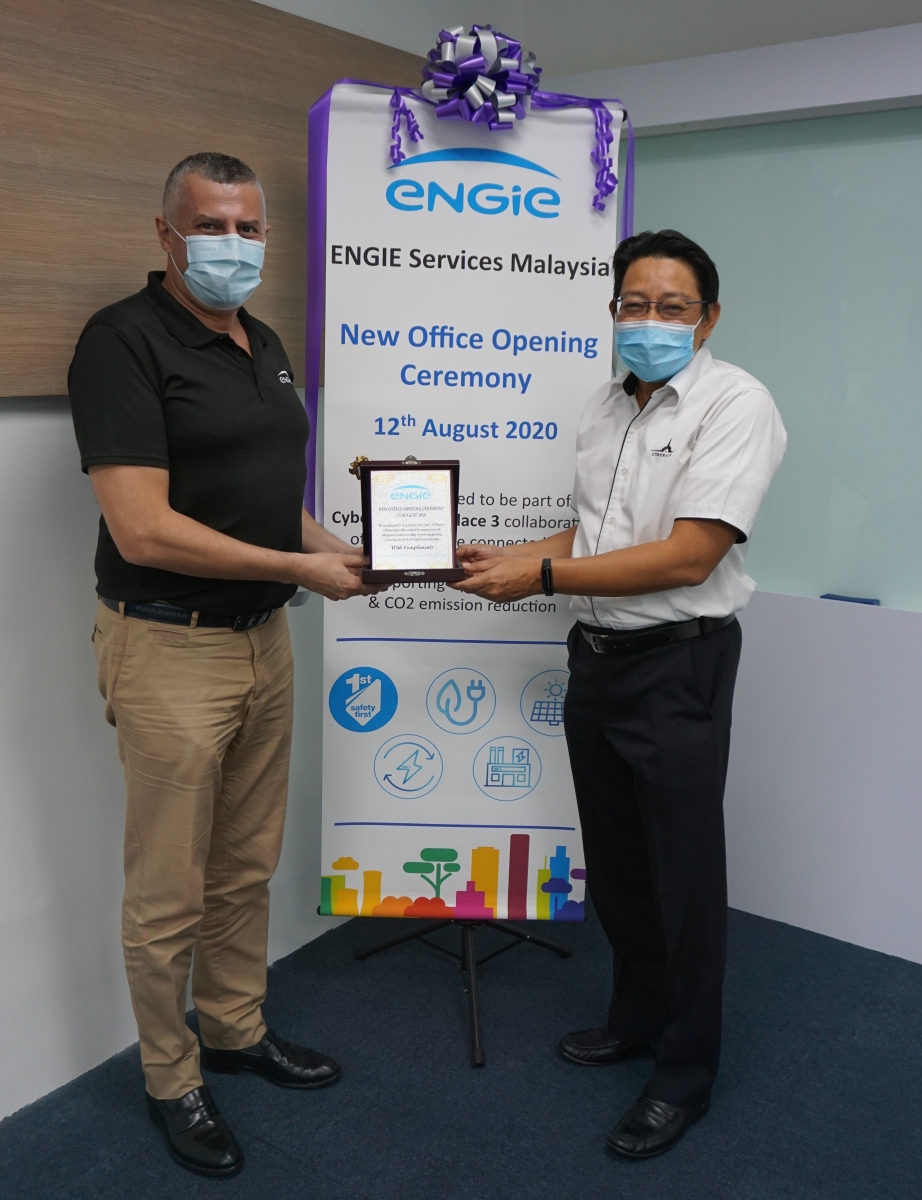 L-R: Pierre Cheyron, CEO, ENGIE South East Asia and Najib Ibrahim, Managing Director, Cyberview Sdn. Bhd at the official office opening ceremony on 12 August 2020
KUALA LUMPUR, MALAYSIA, 12 AUGUST 2020 – Cyberview Sdn Bhd (Cyberview), the Tech Hub Developer of Cyberjaya today congratulated and welcomed ENGIE Services Malaysia Sdn Bhd, the French leader in integrated and sustainable energy, on the grand opening of ENGIE's new office located at Cyberview's business complex at Persiaran APEC, Cyberjaya.
Built to accommodate ENGIE's continued growth and expansion in the country over the next few years, the new office at CoPlace 3 is twice the size of ENGIE Services Malaysia's previous office located at CBD Perdana 2, also in Cyberjaya.
Pendinginan Megajana, a joint venture between ENGIE Services Malaysia and Cyberview, provides round-the-clock chilled water for air conditioning to 51 buildings in Cyberjaya township's data centres, malls and office towers. CoPlace is strategically located in the heart of the vicinity powered by ENGIE's world-class district cooling technology.
Globally, district cooling systems are becoming the preferred cooling solutions for cities and buildings. District cooling produces chilled water centrally for distribution to nearby facilities through a network of insulated pipes to achieve efficient air conditioning of buildings. Through aggregating the cooling needs of a network of buildings, district cooling creates an economy of scale that drives efficiency, balances electric loads, and reduces fuel costs.
This technological approach is more efficient and generates substantial savings as compared to conventional standalone chiller plants. In the coming years, district cooling will play an increasingly vital role in helping businesses meet growing demand in air conditioning sustainably.
ENGIE operates 393 district heating and cooling networks globally, including four district cooling plants in Southeast Asia. Besides Megajana in Cyberjaya, it runs the Northgate district cooling plant in the Philippines and the district cooling systems for the Punggol Digital District in Singapore.
"We are excited to have the opportunity to move here − to be closer to one of our most important partners, Cyberview, and also to showcase our cutting-edge district cooling technology, playing our part in contributing to Malaysia's sustainability development towards carbon neutrality," said Pierre Cheyron, CEO for ENGIE South East Asia.
Najib Ibrahim, Managing Director of Cyberview, said: "At Cyberview, we aim to champion Cyberjaya as a vibrant Global Tech Hub and the centre of Malaysia's tech innovations. In addition to developing a holistic technology ecosystem here, we strive to enhance sustainability of our environment through technology. As such, we are delighted to have ENGIE, a globally renowned multi-national corporation, relocate to our state-of-the-art facilities right here in Cyberjaya. Their decision underscores Cyberjaya as the location of choice for technology firms to set up base, collaborate with local partners, and access the fast-growing Malaysian market within a green economy."
Pleases tilt your device view in portrait mode for better view