Back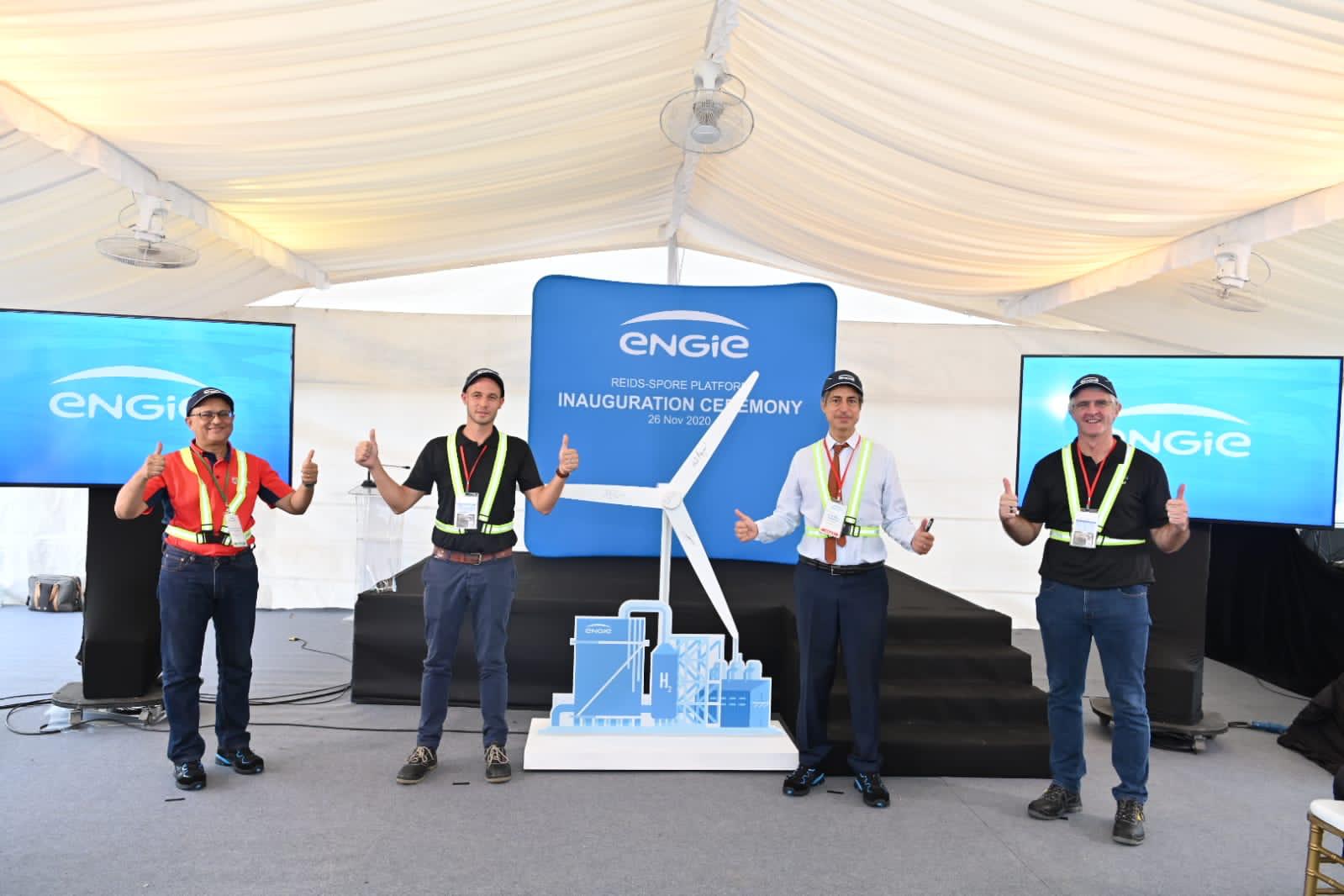 L-R: Professor Subodh Gautam Mhaisalkar, Executive Director ERI@N, Nanyang Technological University; Loic Villocel, Managing Director of ENGIE Lab Singapore; H.E. Marc Abensour, French Ambassador to Singapore; Paul Maguire, President & CEO of ENGIE Asia-Pacific. Video: https://tinyurl.com/REIDSSPORE.
---
Consisting of a micro-grid that generates 550 kW of electricity, ENGIE's REIDS-SPORE platform boasts the largest wind turbine at 100kW that can be found in Singapore as well as a hydrogen full chain for electricity and mobility. Having an electrical capacity of 50kW / 2MWh, the hydrogen full chain also includes a hydrogen refuelling station with a fuel cell electrical vehicle for mobility. The site is set to be a living lab, used by ENGIE group and its collaborators, several educational and research institutes to test and develop additional solutions.
"ENGIE's expertise in smart grids, industry energy efficiency and smart cities is reflected in the REIDS project - a state-of-the-art, multi-fluid microgrid solution. This is a key milestone for us in the region, and a tangible demonstration of how we can help individuals and businesses to live and work more sustainably and in the process fulfil ENGIE's purpose to accelerate the transition towards a carbon-neutral economy." said Paul Maguire, President & Regional CEO of ENGIE Asia-Pacific.
"We are delighted that the REIDS-SPORE platform has come to fruition. In ENGIE, we invest 190 million euros in R&D every year and are constantly looking at solutions that promote carbon neutrality. This partnership with Nanyang Technological University is a testament of our commitment to further enhance sustainable and affordable energy solutions," said Adeline Duterque, Managing Director of ENGIE Lab CRIGEN, ENGIE's corporate R&D center devoted to green gases and carbon neutrality.
Elaborating on how the solution impacts the region, Loic Villocel, Managing Director of ENGIE Lab Singapore added, "There has been increasing focus in Singapore on low-carbon energy research and the use of Hydrogen. Our REIDS-SPORE platform is a timely addition, as it provides an R&D test bed in tropical conditions and serves as a living lab, training platform for industry and professionals, and a public learning centre. The platform is also the first of many ENGIE R&D test bedding sites in South East Asia."
Highlighting the significance of the project, Professor Lam Khin Yong, Senior Vice President (Research) of NTU Singapore, said, "Over the years, NTU has invested heavily in sustainability research as one of its key research pillars. The REIDS project is one of the largest living testbeds managed by our researchers, which integrates multiple energy sources and energy storage solutions, aimed at reducing Singapore's carbon footprint. In partnership with leading industry partners like ENGIE, we hope to continue developing innovative energy solutions that can benefit Singapore and the region around us."
The REIDS-SPORE platform is a key flagship project that strengthens ENGIE's goal of moving towards carbon neutrality, and an important step in ENGIE Lab Singapore's R&D roadmap.
# # #
Pleases tilt your device view in portrait mode for better view