Back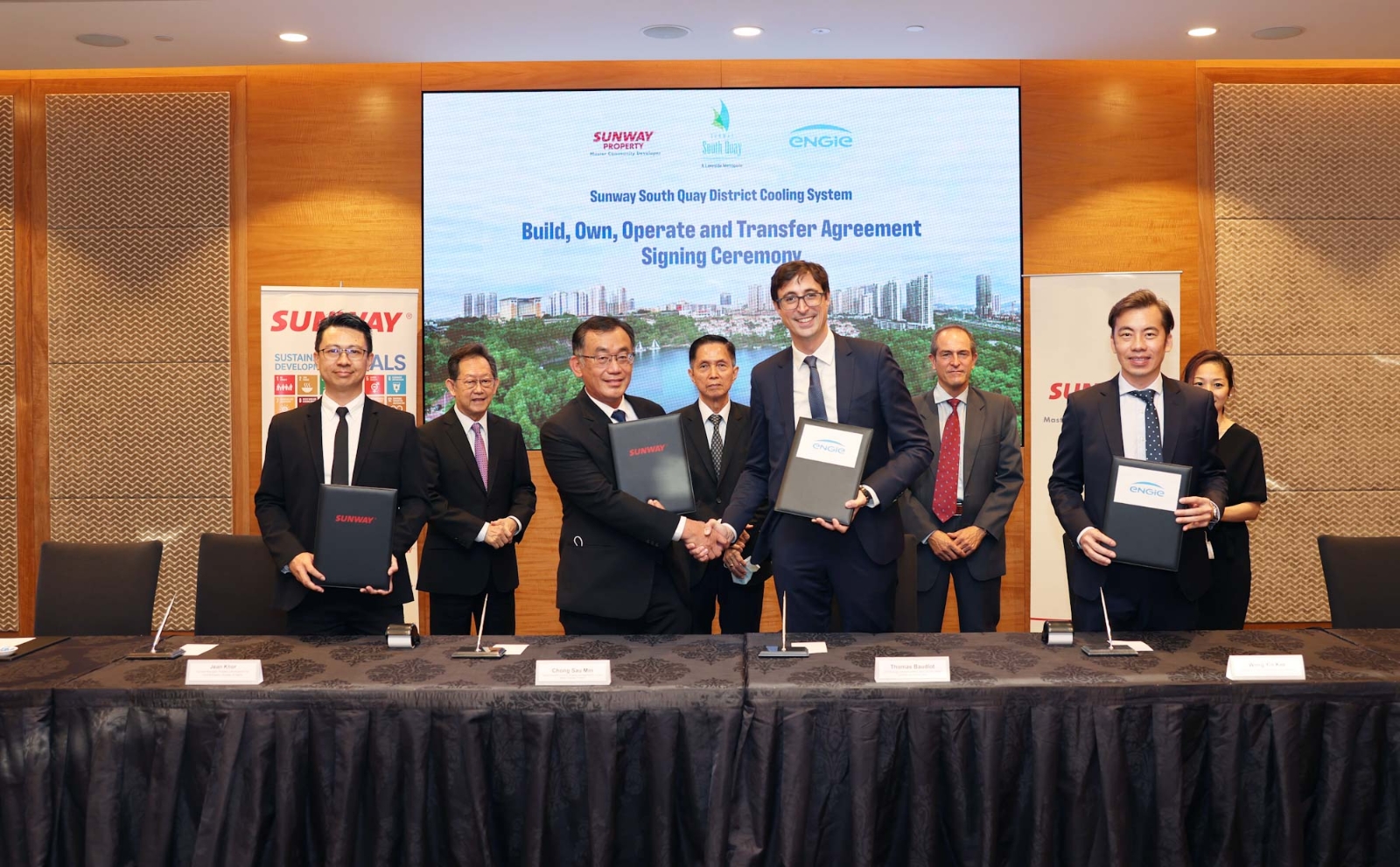 MALAYSIA, 25 July 2022 – ENGIE Services Malaysia Sdn Bhd (ENGIE), a regional leader in low carbon energy, and Sunway Property, the property arm of Sunway Group, one of Southeast Asia's leading conglomerates, have entered into a Build, Own, Operate and Transfer (BOOT) Agreement through ENGIE-SUNWAY DCS Sdn Bhd (ENGIE-SUNWAY) for a district cooling system destined for Sunway Property's new integrated waterfront lifestyle hub known as Sunway South Quay Commercial Precinct 2 (CP2).
ENGIE-SUNWAY is a 40% owned associated company of Sunway SK Sdn Bhd which in turn is a wholly-owned subsidiary of Sunway Construction Group Berhad (SunCon).
The Sunway South Quay CP2 development comprise of 23 and 21-storey office blocks, a 5-storey retail component and a 12-storey university block including the Sunway University's Performing Art Centre with LEED Gold and GreenRE certifications which is close to approximately RM2 billion in gross development value (GDV).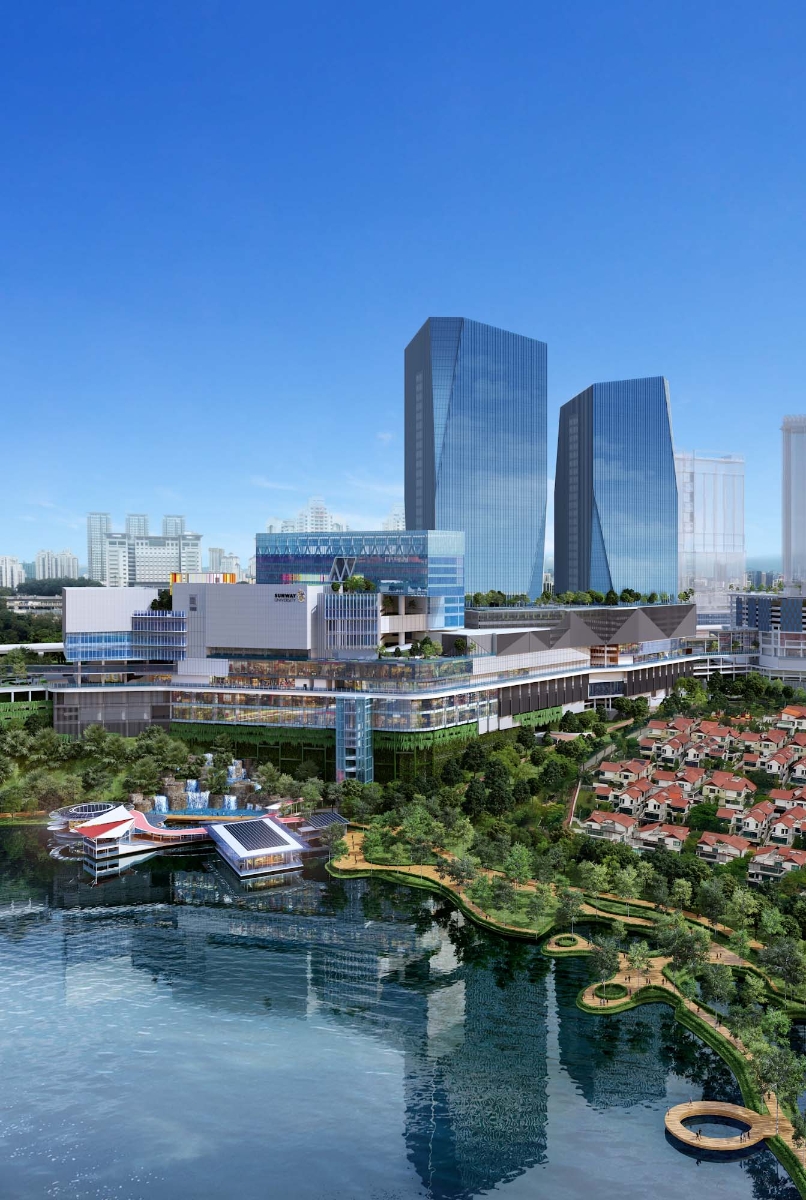 ENGIE's district cooling system offers the most energy-efficient solutions to Southeast
Asian cities and urban areas. It elevates energy efficiency significantly, enabling supply to
be scaled in line with demand. Contracted for 25 years, the Sunway South Quay CP2
cooling solutions will help to lower the operating costs while effectively reining in
carbon emissions, benefiting the air quality while furthering Malaysia's sustainability
journey in line with its commitments under the United Nations Sustainable
Development Goals.
"ENGIE is very excited by this new partnership with Sunway. This first jointly developed
low carbon solution will help Sunway South Quay CP2 save close to 20% energy and CO2
on its air conditioning needs. I'm convinced that the combination of both our organisations
strengths will enable us to accelerate the deployment of such solutions across Malaysia
and help drive the energy transition agenda of the country," said Thomas Baudlot, CEO
Energy Solutions APAC and Country Head for Southeast Asia.
The implementation of Sunway South Quay CP2 district cooling solution will see a cooling
system that has a capacity of more than 7,000 refrigeration tonnes (RT) put in place. The
project will operate on the BOOT model for a greenfield mixed-use development.
This ENGIE-SUNWAY partnership will also bring a total end-to-end value proposition for
district cooling solutions, covering engineering, financing, construction, operation, and
maintenance of such infrastructures, both for greenfield and brownfield urban
development projects.
Sunway Property Central Region Senior Executive Director Chong Sau Min said, "The key
to accelerating urban transformations and implementing successful solutions for
environmental issues lies in collaborating with partners who have a great track record
in implementing green energy solutions. As guided by our Chairman's vision, sustainability
has been long embedded in Sunway's DNA since its inception. We see it as a way of doing
business more than it being a trend as we believe in doing well by doing good. As the Master
Community Developer, we are committed to reducing our carbon footprint through
improved energy efficiency and integration of renewable energy sources; we race to a net
zero carbon future, we hope to lead by example and encourage many more commercial
and industrial districts in Malaysia to follow suit. With the worsening climate crisis, all
societies need to raise the bar quickly, and this joint venture proves that Sunway is
seriously committed to slowing down the worst impacts of the crisis. The project
will accelerate the adoption of district cooling system technology in the future."
About ENGIE South East Asia
ENGIE group is a global reference in providing low-carbon energy and services. Our purpose is to act to accelerate the transition towards a carbon-neutral world, through reduced energy consumption and more environmentally-friendly solutions, reconciling economic performance with a positive impact on people and the planet. We rely on our key businesses (gas, renewable energy, services) to offer competitive solutions to our customers.
At ENGIE South East Asia, we are a fast-growing team of over 2,000 employees with a geographical focus in Singapore, Malaysia, and the Philippines to provide tailor-made integrated solutions for our customers in commercial buildings, industries, and cities.
ENGIE is the global leader in district cooling systems, with more than 400 district heating and cooling networks worldwide. Using globally leading technologies, we create innovative energy and smart solutions that enhance the performance of home, business, community, and make the world a better place. We act throughout the value chain: strategy, design, engineering, energy-efficient asset construction, digital platforms, operations management, financing syndication and outcome assurance.
For more information, visit www.engie-sea.com.
About Sunway Property
Sunway Property is the property division of Sunway Group, Malaysia's leading conglomerate with diversified interests that is listed on Bursa Malaysia and a constituent of the FTSE4Good Index Series. As a Master Community Developer, Sunway Property fulfils UNSDG 11 which is to make cities and human settlements inclusive, safe, resilient and sustainable. Sunway Property builds, owns, and operates integrated townships and developments of more than 5,000 acres across Malaysia, providing healthy, safe and well-connected ecosystems for communities to live, learn, work, play within. To date, it has an enviable portfolio with successful and internationally acclaimed properties in Malaysia and abroad, including China, Cambodia, Vietnam, and Singapore.
For more information, visit https://www.sunwayproperty.com.
Press Contacts:

Zann Chua
Senior Manager, Marketing & Communications
ENGIE South East Asia
M:+65 9155 5600
E: zann.chua@engie.com

Jennifer Zdaniuk
Manager, Marketing & Communications
ENGIE South East Asia
M: +65 8176 0765
E: jennifer.zdaniuk@engie.com
Vivien See Huet Yeh
Senior Manager – Corporate Communications
Sunway Property
M:+60 16 338 3750
E: viviens@sunway.com.my

Alycia Wong
Executive – Corporate Communications
Sunway Property
M: +60 16 242 5266
E: alyciawlm@sunway.com.my
Pleases tilt your device view in portrait mode for better view