Back
On 5 August 2022, ENGIE RCS was awarded the BCA Green and Gracious Builder Certificate by the Green and Gracious Builder Scheme Approving Authority.
A successful audit was conducted to evaluate ENGIE's green and gracious management system. This demonstrates ENGIE RCS's commitment to implementing green and gracious practices and making concerted efforts to mitigate the negative effects of construction.
"We are pleased to share this recognition with the other recipients of the BCA's Green and Gracious Award.
This is a testament to ENGIE RCS's commitment to environmentally friendly and positive construction practices."
Aaron Foo, Project Manager, ENGIE RCS
Congratulations to the team on receiving this honor and playing a part in contributing to a positive and safe environment for everyone.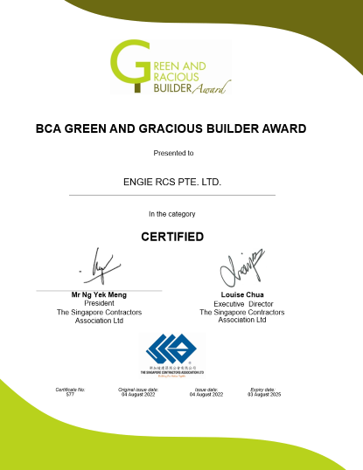 About the BCA Green and Gracious Builder Award
The BCA Green and Gracious Builder Award (GGBA) recognizes progressive builders who adopt environmentally friendly practices and minimize the effects of construction for people living close to the worksite. It also recognizes the conscious effort of builders in implementing gracious practices that helped to develop a more positive image of the industry.
For more information, visit Building and Construction Authority website.
Pleases tilt your device view in portrait mode for better view