Back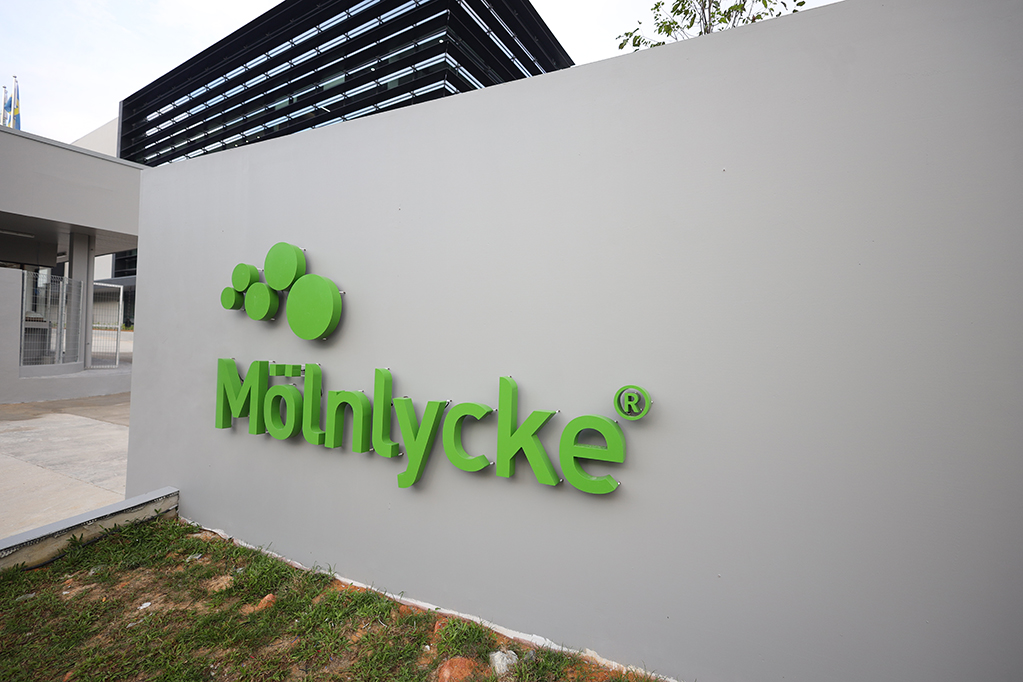 SINGAPORE, 28 February 2023 – ENGIE, a global leader in low carbon energy and services, is partnering with Mölnlycke, a world-leading medical products and solutions company in its transformation into a global leader in sustainable healthcare. From strategy to implementation, ENGIE is expanding its low-carbon energy expertise from Mölnlycke's operations in Malaysia to the company's global operations. Mölnlycke and ENGIE have now entered a 15-year, low-carbon energy and services partnership in support of Mölnlycke's ambitious new mid- and long-term greenhouse gas (GHG) emission reduction targets.
As part of efforts to support Mölnlycke in achieving its Science-Based Target initiative (SBTi) set in December 2022, ENGIE is supporting the sustainable transformation of Mölnlycke's energy intensive surgical glove manufacturing operations across Malaysia. Leveraging their advisory, utilities-as-a-service (UaaS) model to provide multiple onsite utilities — thermal oil, chilled water, iced water and compressed air — coupled with rooftop solar, ENGIE is on track to deliver a significant reduction in Mölnlycke's Scope 1 and 2 emissions from their 2016 baseline by 2030.
In tandem with Mölnlycke's low-carbon energy and services partnership with ENGIE South East Asia, ENGIE Impact, the sustainability consulting division of ENGIE, is further supporting Mölnlycke by defining and implementing a global renewable energy roadmap for achieving 100% renewable electricity sourcing by the end of 2024 across all of Mölnlycke's operations.
This target has already been achieved for eight out of 14 of Mölnlycke's plants, achieving a cumulative total of over 60% renewable electricity share, as of the end of 2022.
"As a world-leading medical solutions company, we fully support the objectives set in the UN's Paris Agreement on climate change and acknowledge the importance of reducing our GHG emissions along our entire value chain. This is a part of our vision to transform our business and become a global leader in sustainable healthcare. We are confident that ENGIE's proven track record of offering effective turnkey solutions in renewable energy, gas and low-carbon energy services will propel us down the path of net zero," said Katriina Öberg, Executive Vice President Gloves, Mölnlycke.
"ENGIE Impact is proud to be supporting Mölnlycke's commitment in attaining its sustainability goals. Our global partnership with Mölnlycke is an example of how finding the right partner with decarbonization capabilities, starting from setting the decarbonization roadmap right through to implementing it in a multi-year partnership approach across several decarbonization levers, can help organizations accelerate their net-zero transition," said Mathias Lelievre, CEO, ENGIE Impact.
"We are proud of the trust we've built with Mölnlycke through our work in Malaysia and look forward to helping them realize their vision of building a sustainable healthcare manufacturing ecosystem, on a global scale," said Thomas Baudlot, CEO Energy Solutions APAC and Country Head for Southeast Asia, ENGIE South East Asia. He further commented. "The success of ENGIE's multi-year, multi-site, multi-utility supply work with Mölnlycke in Malaysia demonstrates the value ENGIE can bring to manufacturers for both their new and existing manufacturing plants."
About ENGIE
ENGIE is a global reference in low-carbon energy and services. With its 96,000 employees, its customers, partners and stakeholders, the Group is committed to accelerate the transition towards a carbon-neutral world, through reduced energy consumption and more environmentally-friendly solutions. Inspired by its purpose ("raison d'être"), ENGIE reconcile economic performance with a positive impact on people and the planet, building on its key businesses (gas, renewable energy, services) to offer competitive solutions to its customers. Turnover in 2022: 93.9 billion Euros. The Group is listed on the Paris and Brussels stock exchanges (ENGI) and is represented in the main financial indices (CAC 40, Euronext 100, FTSE Euro 100, MSCI Europe) and non-financial indices (DJSI World, Euronext Vigeo Eiris - Europe 120 / France 20, MSCI EMU ESG screened, MSCI EUROPE ESG Universal Select, Stoxx Europe 600 ESG-X).
In Southeast Asia, we are a fast-growing team of nearly 2,000 employees. With a geographical focus in Singapore, Malaysia, and the Philippines, we bring efficient energy solutions spanning from integrated facilities management and low-carbon infrastructure (district cooling, EV charging, onsite solar, etc.) to large-scale renewables to our clients across the industry, real estate, and data center sectors. Through our advisory arm, ENGIE Impact, we also offer a wide range of strategic and technical capabilities in the region, to tackle our customers' complex sustainability challenges from strategy to execution. Acting throughout the value chain, we help our clients decarbonize today, for a better tomorrow.
About Mölnlycke
Mölnlycke is a world-leading medical products and solutions company that equips healthcare professionals to achieve the best patient, clinical and economic outcomes. The core business is within the four Business Areas of Wound Care, Operation Room Solutions (ORS), Gloves and Antiseptics.
Mölnlycke employs around 8,800 people. The company headquarters are in Gothenburg, Sweden and we operate in more than 100 countries worldwide. Since 2007, the company has been part of Investor AB, an engaged owner of high-quality, sustainable global companies founded by the Wallenberg family in 1916.
ENGIE South East Asia press contact(s):
Zann Chua
Regional Head of Marketing & Communications
ENGIE South East Asia
E: zann.chua@engie.com
M:+65 9155 5600
Jennifer Zdaniuk
Manager, Regional Marketing & Communications
ENGIE South East Asia
E: jennifer.zdaniuk@engie.com
M: +65 8176 0765
ENGIE Impact press contact(s):
Deepti Pathak
APAC Marketing & Communications Head
ENGIE Impact
E: deepti.pathak@engie.com
M:+65 81016300
Mölnlycke Press contact(s):
Karin W Nordén
Director Corporate Communications
Global Communications
Mölnlycke
E: Karin.Norden@molnlycke.com
M: +46 708 283339
Mathilda Blomsterberg
Strategic Communications Specialist
Global Communications
Mölnlycke
E: Mathilda.Blomsterberg@molnlycke.com
M: +46 737 733814
Pleases tilt your device view in portrait mode for better view