Back
With manufacturing comprising more than half of the Philippines's industrial sector and accounting for almost a quarter of the country's Gross Domestic Product (GDP), this sector is a key driver of growth for the Philippines. As a party to the Paris Agreement, the Philippines has pledged to reduce its own greenhouse gas emissions by 75 percent from its 2015 levels by the year 2030.
Sustainability in manufacturing is essential to meet this goal. With a lack of a gas network in the Philippines, manufacturing companies are dependent on regular deliveries of fossil fuels to meet the thermal and electricity needs for their manufacturing processes.

The challenge posed by increasing energy prices
With the exposure to the increasing energy prices coupled with difficulties in locking down longer-term energy contracts, there is a lack of visibility of operating costs and this will in turn increase the risk of escalating expenses and unsustainable fuel needs.
Biomass can be an attractive and viable alternative to meet these needs in a sustainable manner. It helps the industry to cut down the dependence on the finite supply of fossil fuels and result in significant CO2 and cost reduction.

How Biomass works?
Biomass is an organic approach that is sustainably supplied. Unlike fossil fuel, raw materials will be sourced sustainably, often from byproducts of agriculture such as soy, corn and rice. These materials, called feedstock, are then converted into thermal energy such as steam or heated thermal oil through thermal processes. The heat generated can then be converted into energy and used directly onsite.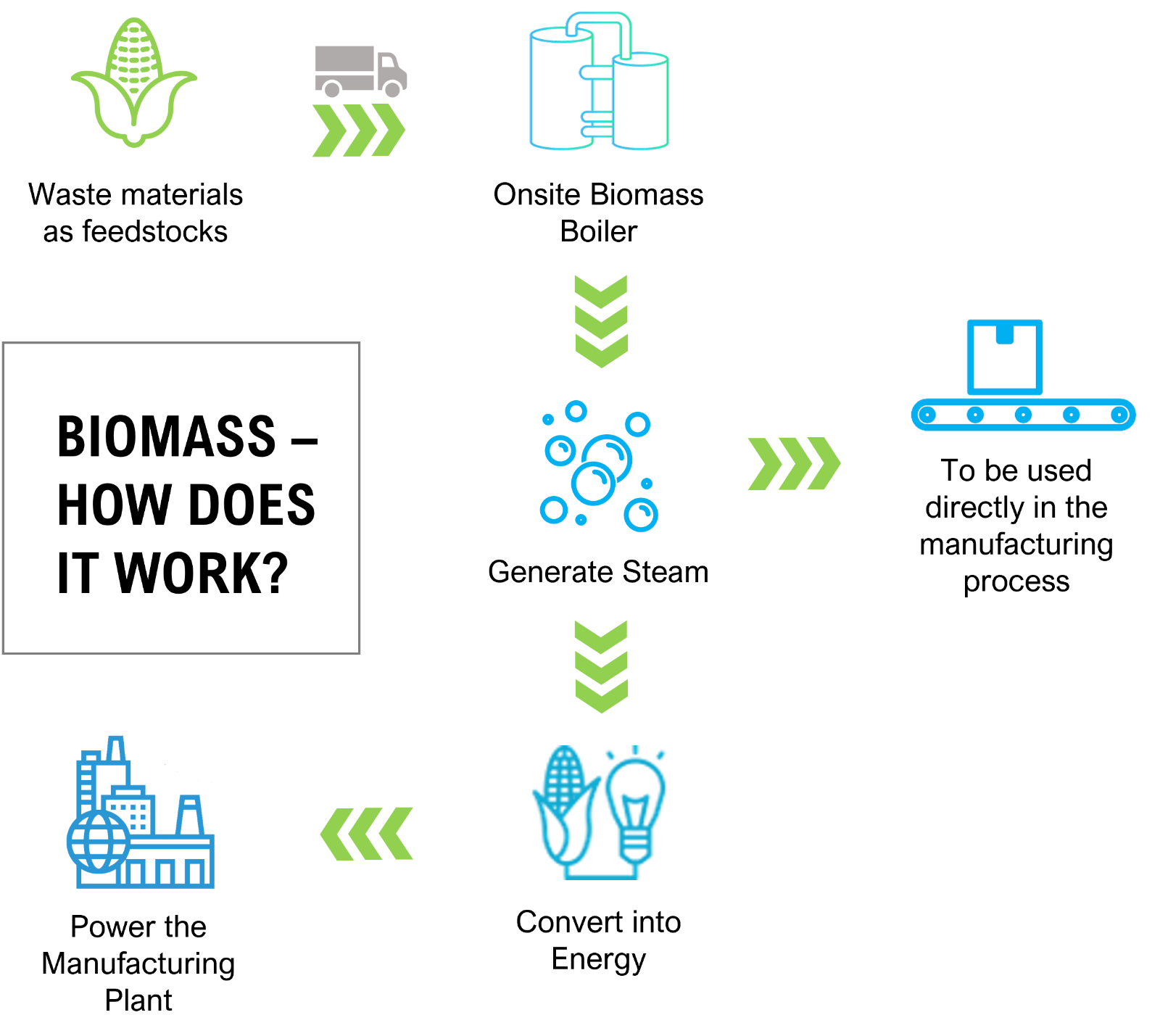 Benefits of Biomass for the Philippines Industry
Reliable – with a wide network of sources and platforms, companies like ENGIE can guarantee the security on the supply of feedstock. Manufacturers can have a hands-off approach by outsourcing the procurement and supply chain to a reliable partner while they focus on their core business

Green & Sustainable – Biomass is one of the most sustainable energy sources and decreases our dependency on fossil fuels. It can reduce up to 80% of the plant's carbon emissions by using waste as a source of "fuel".

Cost effective – in general, especially in today's context of rising fuel and oil prices, biomass is less expensive than fossil fuels. Manufacturers can in turn generate higher profits from lower operating costs.

This solution is particularly effective for the manufacturing industry with its high demand in energy and a constant need of steam in the manufacturing process. Today, around 15% of the total energy applications in the Philippines comes from biomass and we have seen an uptick of companies utilizing biomass as a key solution to meet the energy needs and achieve their sustainability goals. With the push for energy transition and carbon neutral initiatives, it is definitely a viable and cost-effective energy source for the Philippines manufacturing industry.
Pleases tilt your device view in portrait mode for better view