Back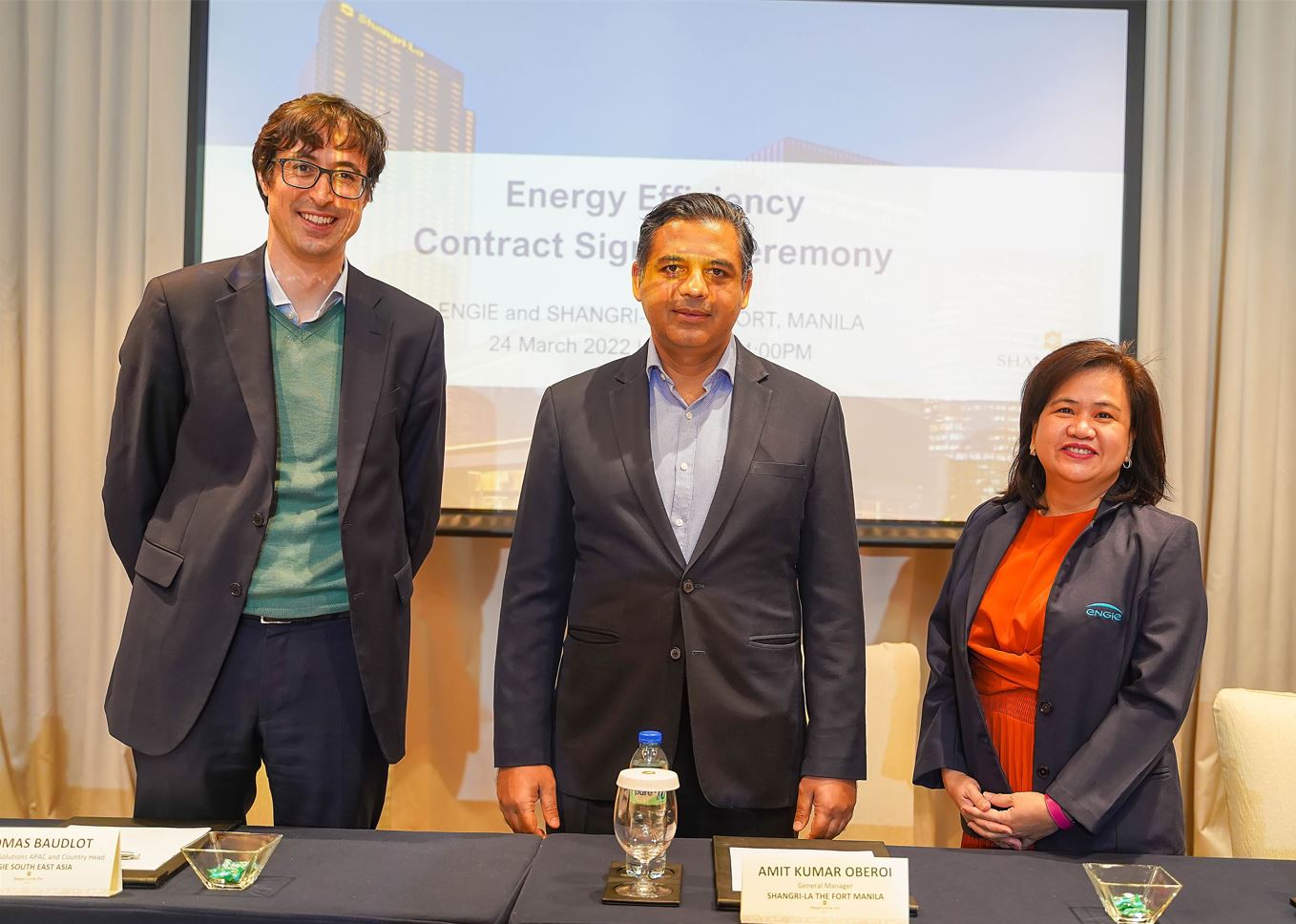 Philippines, 28 April 2022 – ENGIE, a global leader in low-carbon energy and services, recently signed a seven-year energy efficiency performance agreement with real estate developer Shang Global City Properties, Inc. to optimize their chilled water plants and save up to 1,100 tons of CO2 annually for Shangri-La The Fort, Manila.
Shangri-La The Fort, Manila is a mixed-use development comprised of a hotel, residence, retail, and a comprehensive lifestyle and leisure club located in Bonifacio Global City, Taguig. The destination of choice of discerning urbanites and travellers, it is a haven of luxurious and contemporary lifestyle. Standing at 250 meters tall, this LEED (Leadership in Energy and Environmental Design) gold-certified green development is committed to achieving and maintaining the high standard of sustainable design.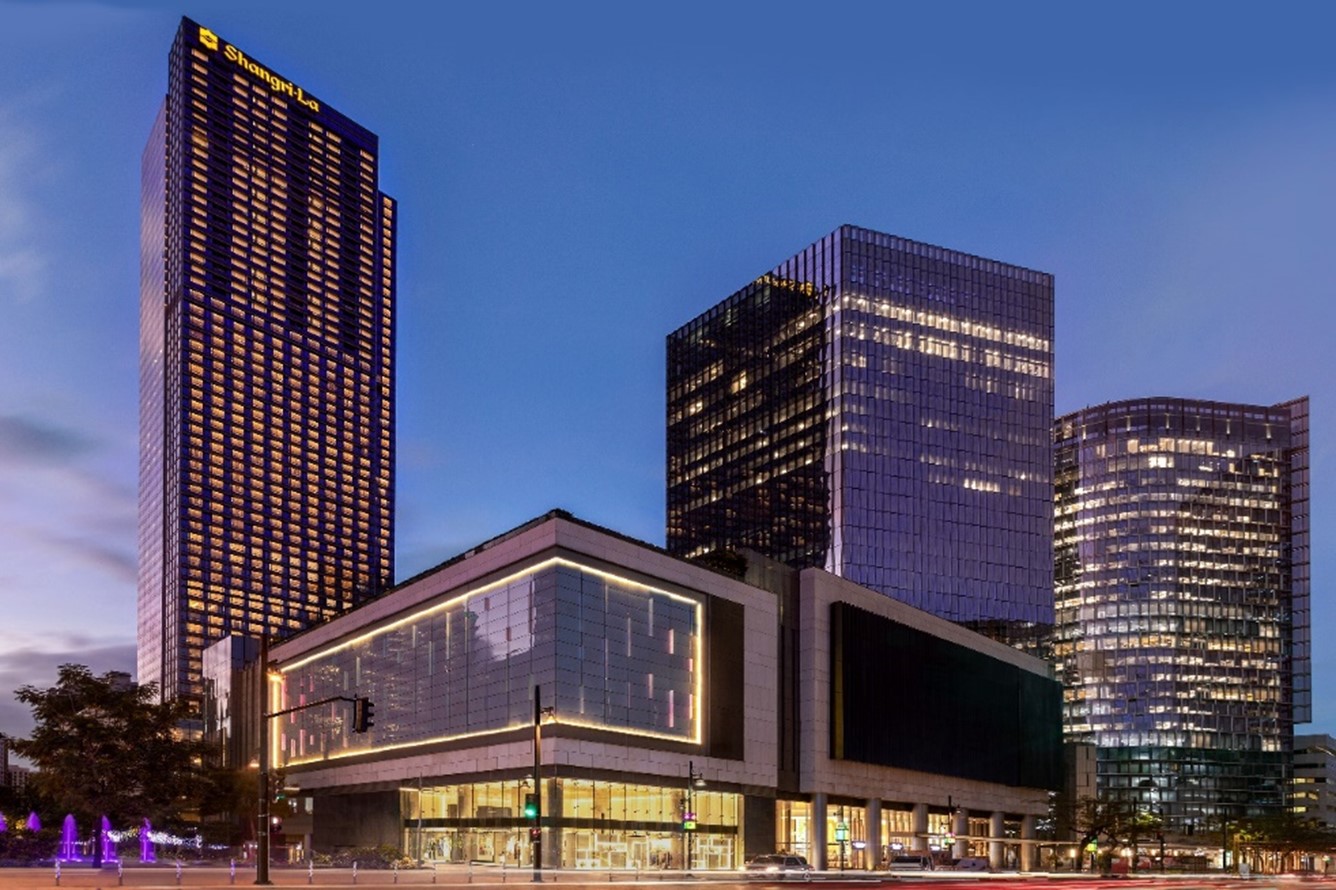 "We are delighted to see our portfolio in the Philippines continuously grow, and we are proud to support our partners in accelerating their strategic and meaningful journey towards carbon neutrality. I am excited to partner with Shang Global Properties, who puts sustainability at the heart of its activities. With the hospitality sector picking up from COVID-19, this partnership is more timely than ever as carbon-conscious travelers and hoteliers strive to make travel more sustainable." said Thomas Baudlot, CEO, Energy Solutions APAC and Country Head Southeast Asia.
ENGIE will finance, design and improve the system including the operations and maintenance, to deliver maximum efficiency while reducing consumption. This will enable Shangri-La The Fort to reduce its carbon emissions by up to 7,700 tons of CO2 over the contracted period.
"Shangri-La The Fort, Manila remains committed and continues to make great strides to pursue sustainable operations. With ENGIE, we can decarbonize our energy consumption while significantly managing costs. The partnership also enables us to contribute to the national effort in addressing climate change," said General Manager, Amit Oberoi.
"We look forward to partnering ENGIE, a global leader in low carbon energy solutions, in supporting us to achieve the Shangri-La The Fort sustainability goals. A highly efficient cooling system will positively impact the decarbonization footprint and enhance our customers' experience in our property," said Director of Engineering Antonio Dizon.
ENGIE is a global leader in low-carbon energy and services. In supporting the national agenda to address and minimize the impacts of climate change, ENGIE partnered with Shang Properties to strengthen its commitment towards building a carbon-neutral nation.

About ENGIE South East Asia

ENGIE group is a global reference in low-carbon energy and services. Together with our 170,000 employees, our customers, partners and stakeholders, we are committed to accelerate the transition towards a carbon-neutral world, through reduced energy consumption and more environmentally-friendly solutions. Inspired by our purpose ("raison d'être"), we reconcile economic performance with a positive impact on people and the planet, building on our key businesses (gas, renewable energy, services) to offer competitive solutions to our customers. Turnover in 2021: 57.9 billion Euros. The Group is listed on the Paris and Brussels stock exchanges (ENGI) and is represented in the main financial indices (CAC 40, Euronext 100, FTSE Eurotop 100, MSCI Europe) and non-financial indices (DJSI World, DJSI Europe, Euronext Vigeo Eiris - Eurozone 120/ Europe 120/ France 20, MSCI EMU ESG screened, MSCI EUROPE ESG Universal Select, Stoxx Europe 600 ESG, and Stoxx Global 1800 ESG).

In Southeast Asia, we are a fast-growing team of over 2,000 employees with a geographical focus in Singapore, Malaysia and the Philippines to provide tailor-made integrated solutions for our customers in commercial buildings, industries, and cities.

Using globally leading technologies, we create innovative energy and smart solutions that enhance the performance of homes, businesses, and communities, to make the world a better place. We act throughout the value chain: strategy, design, engineering, energy-efficient asset construction, digital platforms, operations management, financing syndication and outcome assurance.
Press contact:

Zann Chua
Senior Manager, Marketing & Communications
M:+65 9155 5600
E: zann.chua@engie.com
Pleases tilt your device view in portrait mode for better view