Back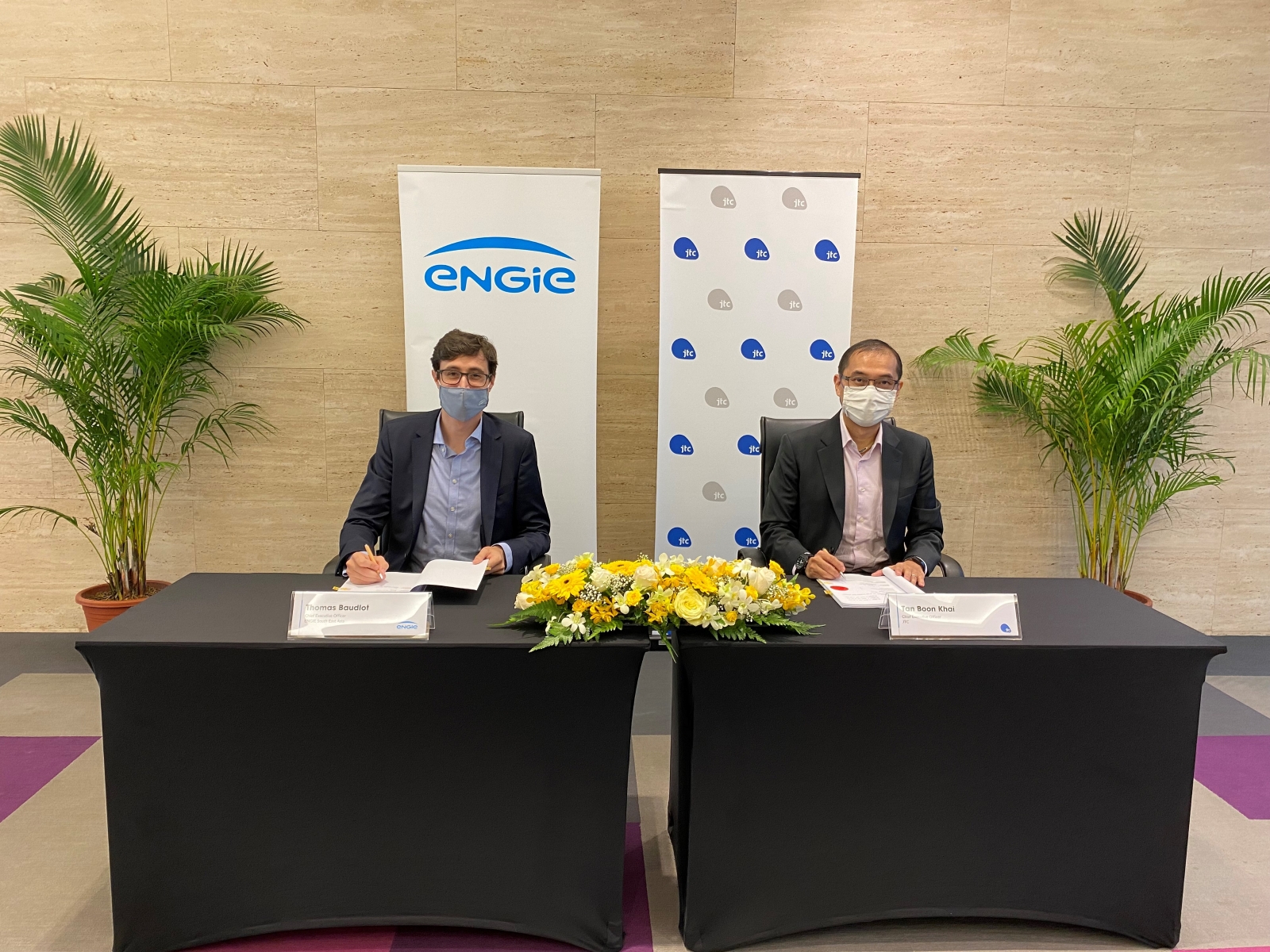 (L-R): Thomas Baudlot, CEO, ENGIE South East Asia and Tan Boon Khai, CEO, JTC Corporation signing the Agreements in a signing ceremony
Singapore, 11 May 2021 – ENGIE South East Asia, a global leader in driving sustainable energy innovation, announced today that it has been appointed by JTC Corporation (JTC) to build, own and operate an underground District Cooling System (DCS) for the Punggol Digital District (PDD), Singapore's first smart business district that integrates a national university, business park and community facilities. The agreement was signed by Thomas Baudlot, CEO of ENGIE South East Asia and Tan Boon Khai, CEO of JTC in a signing ceremony.
Under this Design, Build, Own and Operate (DBOO) agreement, ENGIE will develop and construct the DCS plant, which will have a cooling capacity of close to 30,000 refrigeration-tons[1], equivalent to cooling 8,000 4-room HDB flats.
Expected to be completed in 2024, the underground plant will be operated by ENGIE for a period of 30 years. The district cooling facility will provide air conditioning in a reliable, sustainable and cost effective way to the business park, community, retail outlets, and transportation nodes within the district. It optimizes resources, land use and operational efficiency by allowing individual buildings to avoid operating and maintaining their own air conditioning systems.
"As a global developer and operator of more than 400 district energy schemes worldwide, ENGIE is proud to partner with JTC to build a world-class smart district cooling system that contributes to Singapore's sustainability agenda. Increasingly, district cooling solutions will play a critical and essential role to help Southeast Asia meet its cooling needs while achieving its sustainability goals towards climate action. The development and construction of the plant is right at the heart of ENGIE's vision to enable businesses, partners and governments to make the shift towards carbon neutrality," said Thomas Baudlot, Chief Executive Officer, ENGIE South East Asia.
With a 4km centralised piping network connected to customers in the district, the plant is expected to reduce 3,700 tons of CO2 emissions per year at full development and achieve up to 30% reduction of energy consumption compared to standard commercial buildings. The design phase contract, awarded to ENGIE in 2019, has also achieved the Building & Construction Authority's (BCA) Green Mark Platinum award.
Beyond a reduction in carbon emission, the DCS contributes to PDD's vision of not just being a sustainable mixed-use district, but a smart one. The system will be integrated into PDD's Open Digital Platform where monitoring and machine learning of building usage patterns will be carried out.
"Technology is a key driver in advancing sustainability at Singapore's first smart business District. The Open Digital Platform at PDD integrates various systems across the district, including the district cooling system. This will allow us to track energy consumption patterns, as well as optimise energy distribution and cost efficiencies across the entire District. This is an exciting partnership with ENGIE, and we welcome more players to join us," said David Tan, Assistant Chief Executive Officer of Development Group, JTC.
In line with Urban Redevelopment Authority's (URA) urban transformation master plan to optimise land use, key infrastructure for the district cooling system will be laid below ground. By implementing district cooling, more spaces can be used for green parks and social amenities, development of renewable energy such as rooftop solar panels. Moreover, ENGIE will leverage construction innovations such as mechanical pipe couplings for a more efficient and environmentally friendly installation, which aligns with the nation's push to promote the adoption of sustainable construction materials and practices.
The selection of ENGIE to design, build, own and operate the district cooling system for PDD marks another significant step for the company, as it continues to make headway in strengthening South East Asia's energy efficiency through innovations in district cooling and other smart and sustainable technologies.
---
[1] A refrigeration ton (RT), is a unit of power used to describe the heat-extraction capacity of refrigeration and air conditioning equipment. It is defined as the rate of heat transfer that results in the freezing or melting of 1 short ton (2,000 lb; 907 kg) of pure ice at 0 °C (32 °F) in 24 hours
PRESS CONTACT
Zann Chua
Senior Manager, Marketing & Communications, ENGIE South East Asia
M:+65 9155 5600
E: zann.chua@engie.com
Melissa Loke
Manager, Marketing & Communications, ENGIE South East Asia
M: +65 9298 5711
E: melissa.loke@engie.com
Pleases tilt your device view in portrait mode for better view