Back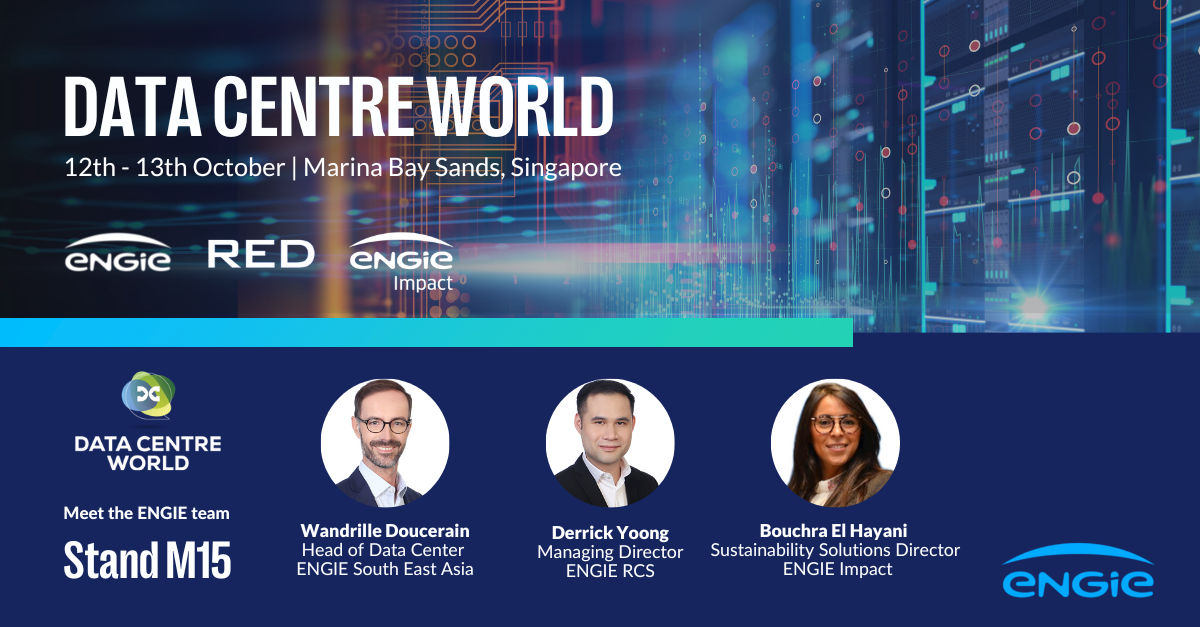 ENGIE South East Asia, RED and ENGIE Impact are exhibiting at Data Centre World, Singapore from the 12th-13th of October at at Marina Bay Sands on stand M15.
Data Centre World, Singapore, is promoted as Asia's leading data centre event and the most influential gathering of data centre experts in the region. Join us as we share our innovative end-to-end approach to delivering data centres of the future and learn how through the broad and deep expertise of ENGIE's diverse entities we make green data centres a reality through compelling keynote presentations and engaging panel discussions with thought leaders from across the industry.
Making Green Data Centres a Reality
Date: 13 October 2022
Time: 11:45 - 12:05
Speaker: Wandrille Doucerain, ENGIE South East Asia
Location: Data Centre World Keynote Theatre
Carbon Neutral Data Centres by 2030: A fantasy or reality?
Date: 12 October 2022
Time: 16:25 - 16:45
Speakers: Arij Glycin Ganesan & Iain MacDougall, Red Engineering Design (an ENGIE Impact company)
Location: Energy efficiency, Cost management and DCIM Theatre
Visit us on stand M15 where we will be showcasing our joint end-to-end expertise and capabilities and learn how we help clients accelerate their sustainability journeys to make green data centres a reality.
Click here to register for your free pass now.
Pleases tilt your device view in portrait mode for better view